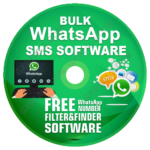 Unlimited Free Bulk WhatsApp SMS Sending Software
Send unlimited messages text, images, video, documents etc with Our WhatsApp marketing software. Promote your business and reach to your targeted audience vai bulk WhatsApp Marketing. This software supports all languages and Can Send Message to all countries.
✅ Instant download & use. No waiting! No per message cost.
✅ Send unlimited bulk WhatsApp messages to unlimited contacts.
✅ Send unlimited bulk text messages, photos, Audios, videos & documents.
✅ Import Contacts from Microsoft Excel & .txt file.
✅ LifeTime License. No need to buy credits.
✅ Track each sending messages with instant chat reply's.
✅ Inbuilt WhatsApp Number filter.
✅ WhatsApp group contact number grabber.
✅ Personalized messages contains contact name.
✅ After send get instant delivery reports.
✅ 20 Images files sending in one click.
✅ High Speed Sender(1000 Messages per minute).
✅ After send get instant delivery reports.
✅ One Time Installation Support.
✅ Delivery – Online Download Options.
Description
Send Images, videos, Pdf Documents , Text Messages and link in bulk to your new or old client. Get report of campaign and can also see the reply of users.
Send WhatsApp Messages without Saving Contact Number
Software Do not have any Limitation for Sending WhatsApp SMS, Its Totally Free with Lifetime validity
Only One Time Installation Charge
[vc_custom_heading text="Unlimited Free Bulk WhatsApp SMS Sending Software" font_container="tag:h4|text_align:center|color:%23ffffff" use_theme_fonts="yes" css=".vc_custom_1460212734790{margin-top: 5px !important;margin-right: 5px !important;margin-bottom: 5px !important;margin-left: 5px !important;border-top-width: 2px !important;border-right-width: 2px !important;border-bottom-width: 2px !important;border-left-width: 2px !important;padding-top: 5px !important;padding-right: 5px !important;padding-bottom: 5px !important;padding-left: 5px !important;background-color: #1e73be !important;background-position: center !important;background-repeat: no-repeat !important;background-size: cover !important;}"[vc_custom_heading text="Unlimited Free Bulk WhatsApp SMS Sending Software" font_container="tag:h4|text_align:center|color:%23ffffff" use_theme_fonts="yes" css=".vc_custom_1460212734790{margin-top: 5px !important;margin-right: 5px !important;margin-bottom: 5px !important;margin-left: 5px !important;border-top-width: 2px !important;border-right-width: 2px !important;border-bottom-width: 2px !important;border-left-width: 2px !important;padding-top: 5px !important;padding-right: 5px !important;padding-bottom: 5px !important;padding-left: 5px !important;background-color: #1e73be !important;background-position: center !important;background-repeat: no-repeat !important;background-size: cover !important;}"]
[vc_row][vc_column][vc_video link="https://www.youtube.com/watch?v=jXUCxwJr3x0″]